Several weeks ago my daughter K came to me with a discovery. She discovered that Jamba Juice, a favorite smoothie destination when we lived in California, had opened their first location in the state of Kentucky. Unfortunately, it was in Lexington which was a 45-60 minute drive. And no matter how much she wanted it, I was not going to drive over an hour just for a smoothie.
Well, she persisted and an idea came to me. My wife had a friend who suggested a wonderful doughnut shop in Versailles — on the way to Lexington. And recently, we have been having fun as a family geocaching. So I decided to combine all three into a family fun day — donuts, Jamba Juice and geocaching. So we inked a Saturday in March way back in Feb and began to look forward to our adventure.
That day finally came and, while heavily anticipated, ended up surpassing our expectations. We left early Saturday morning with the intent of the donut stop being our breakfast. Luckily, this is not every day because if I ate donuts every day for breakfast I wouldn't be able to fit in my car. The donut shop — DoughDaddy Donuts in Versailles, KY — ended up being in a gas station. Now it was a nice gas station at that, but it didn't fit our preconceived notions of a donut shop. Thankfully, the donuts were delicious and we each scarfed down a variety of glazed, blueberry cake, maple, sprinkled, and cinnamon twists to name a few. We enjoyed the meal as a family and set up camp at a barstool type table while we soaked in the beautiful day that was developing outside.
A few more donuts to go and we proceeded to the activity portion of our journey — geocaching. I pulled out my iPhone and tapped on the Geocache app which revealed that there was a geocache 181 ft away. Wow! Cool! Our first geocache and we didn't even have to leave the property.
We cleaned up the table, secured our "to go" donuts and began homing in on the cache location. It ended up being strategically and cleverly hidden behind the facility. My son found it and was very proud to have found the first cache of the day. We signed the log, completed it in the app and proceeded to triumphantly search for the next cache on our route to Jamba Juice. We were full from donuts so we were intent on maximizing our geocache time on our way to Lexington.
The next few geocaches were fun and offered some steps away from the beaten path. One provided a nice view of a local castle. Yes, you read that correct – a castle. Another geocache down the street from that one was in an old cemetery that had veteran soldiers buried in it from the Revolutionary war, the Civil war, WWI and WWII. That also was the first geocache that my wife found on her own. It was so cool to see my wife and daughter excited in joining this family activity. It was a beautiful day and we were having a lot of fun as a family.
We knocked off a couple more geocaches – one in front of the Lexington airport, another down a country road, and a few in a local park. Soon enough it was Jamba Juice time due to the building heat (of which term I use loosely because #1 it is still March and #2 it was only in the 70's). While we weren't starving, we weren't ready for our picnic lunch but needed a break from geocache hunting. A Jamba Juice would fit the bill nicely. We made our way towards the location that blinked on my phone's GPS map. It is across the street from UK (University of Kentucky) and looks like your typical Jamba Juice. In fact, with the spectacular weather and outdoor seating, we commented that we could have been enjoying it outside a Jamba Juice in Thousand Oaks, CA rather than in Lexington, KY. We were all very happy to have the familiar smoothies, be soaking in the wonderful weather (especially since it was still officially winter) and having fun as a family adventuring and exploring.
Prior to our departure, I indulged in a second "to go" favorite Jamba Juice — a power sized Strawberries Wild with immunity boost. We all had our fill of donuts, of geocaching family fun, and of Jamba Juice and the decision was to meander home and just enjoy the beautiful weather and country drive. In a nutshell – to enjoy the journey. Not less than 1 mile from Jamba Juice though, I spotted an ornate obelisque structure ahead in a cemetery. I guided the car into the driveway and was informed via a very nice sign that we were at the Lexington National Cemetery. It was a beautiful place with lots of gardens, markers, flowering trees and peacefulness. Between the weather and spring flora it was truly a beautiful place. We parked the car and decided to wander around. The obelisque structure turned out to be a monument to and tomb of Henry Clay – a Kentucky statesman. We read the marker and continued our exploration of the cemetery. Below are a few pix I snapped of the beautiful flowering trees. Our timing was perfect to enjoy the various colors.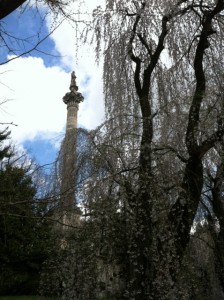 All in all, it was a perfect family day that I could not have planned better. We are already planning on doing it again with the slight variation of different geocaches.
…..Dan at aslowerpace dot net