So as I wrote in my previous post, I had some business to do in New Jersey today. Luckily, everything went smoothly and I was able to get out of there and into NYC around 4:30pm. Having never been there, I quickly realized with the New Jersey and NYC traffic that I had to channel my previous LA driving persona just to survive. Plus, it was a rental.
No sooner had I popped out of the Holland Tunnel and made my way down to Battery Park to see my girlfriend, Lady Liberty, then I ended up turned around trying to find parking and wound up on the Brooklyn Bridge going away from the city. Luckily, I was able to maneuver back 180 degrees and return. My whole ordeal of hitting Manhattan and then going away and then coming back and finding parking wasted about an hour. When I was finally able to park and walk to Battery Park, there were no more tickets or ferries going out to the statue so I had to relegate myself to gaze at her from afar. Her is my iPhone picture attempt at capturing her beauty and what she means to me and this special country of ours.
Soon enough I wandered over to Wall Street to see the NYSE. On the way there, I stumbled across that big bull statue and snapped a picture. Interestingly, the NYSE had a Norwegian flag flying in solidarity with those in Norway affected by extremist violence. Being full Norwegian, this was special and a sight I will probably never see again.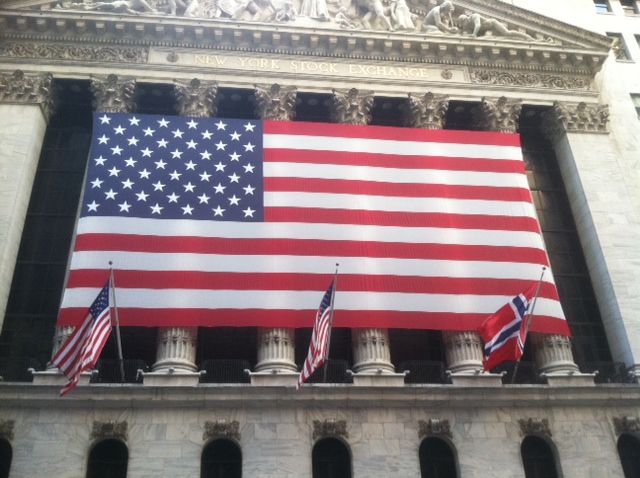 I also enjoyed the WWII memorial in Battery Park with all the names in stone and a very cool eagle statue. I also stumbled upon the Irish Potato Famine Memorial on the west side by the water. And finally spent some time praying around Ground Zero and all the building they are doing there. I look forward to coming back once the 9-11 memorial and museum are finished.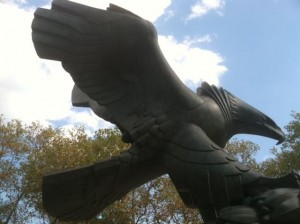 And finally after all that I had built up a hunger and needed some good New York deli grub so I went to a friend's recommendation at Katz's Deli. Now I had not heard of it but he clued me in that it was the deli they used in THE scene in "When Harry Met Sally". The pastrami sandwich was out of this world! Thanks for the suggestions Mr. James!
Well, that was my whirlwind afternoon tour of NYC. I know I missed so much and hope to come back some day to pick up where I left off.
…..Dan at aslowerpace dot net