This last weekend while most here in Kentucky were thinking about horses and racing with the 138th running of the race for the roses in the Kentucky Derby, I was working out in the yard. There are several projects that either needed a final push towards completion or that needed to be started and completed. When I started out Saturday morning, I had four staring me in the face. Thankfully, after hard work and family involvement, we were able to completely knock out three of them and make headway on the fourth. Below are some pictures as proof.

The first was "Opa's Rose Garden". Many years ago, when we moved into our first home in California, my father-in-law helped me plant a rose garden in the front yard. Those roses flourished in the direct sun and we enjoyed many beautiful blooms from them until the day we left. We moved and unfortunately, my wonderful father-in-law also succumbed to Alzheimer's. He is no longer the man we all once knew and loved. This rose garden that we worked so hard on this last weekend is our tribute to him and who he was. He loved roses and gardening and we named it in his honor — Opa's Garden. We added a few chairs and it has become a favorite place to spend the early evening watching the sun go down behind the treeline after a long day. Opa — we love and miss you!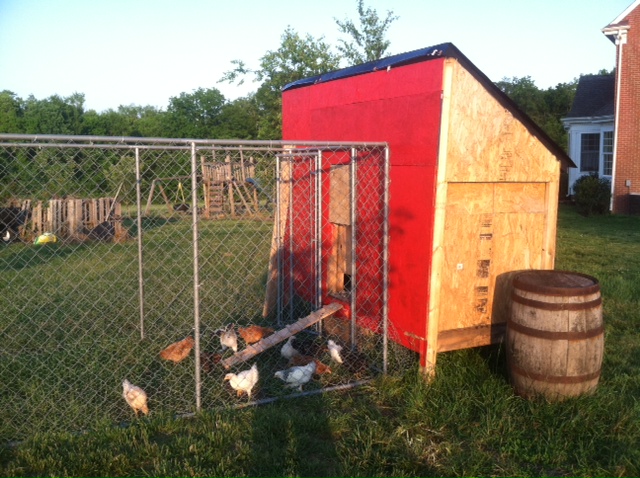 The second project that was completed was more out of necessity than want. You see, about 5 weeks ago we brought home 13 baby chicks from our local favorite country store — Metzger's Country Store. Those chicks quickly outgrew the Rubbermaid container I had them in and I had to relocate them to a bigger container in the garage. Soon enough, that was also outgrown as well as odorous, not to mention the fact it booted my car outside for the month of April. So putting the finishing touches on the chicken coop was a definite necessity. I am very proud of it because, aside from the $30 roll of chicken wire I bought, I spend $0.00 on the structure. I was lucky enough that a friend of mine informed me of a house build in his neighborhood which allowed my son and I to dumpster dive. We recovered, repurposed, recycled and reused plywood, sheeting, 2 by 4s, 2 by 6s, roof paper and shingles. The whole thing nicely came together with a few modifications to the design in my head. The finishing touches on it will be solar panels for light/heat (notice the perfect south facing sloped roof) and water reclamation off the roof into the whiskey barrel which will provide water for my egg laying hens. The whole project has been very rewarding and self-sustaining and I am looking forward to mid-summer farm egg production for our family.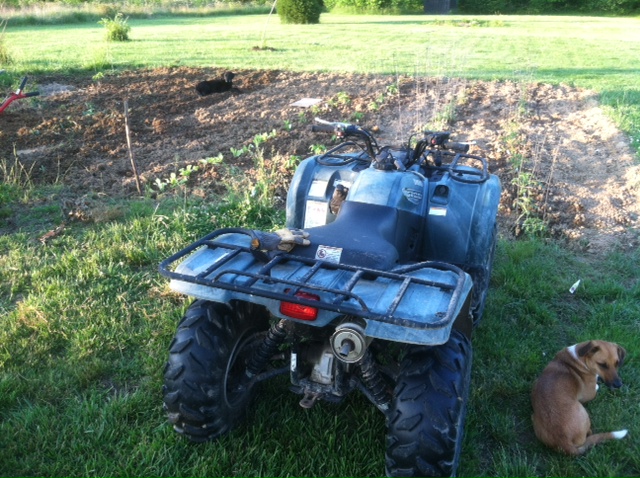 The final project was getting our garden planted. We put in multiple types of tomatoes, red, green, yellow peppers, banana peppers, romaine lettuce, cucumbers, watermelon, cantaloupe and zucchini — all stuff that my family eats. Along with the eggs, corn planted on the back property, hunted deer in the freezer, and the occasional cow provided by our farmer friend, we have a great bounty of food that we know where it came from. And that is pretty cool!
…..Dan at aslowerpace dot net