One cool toy that is out there now that I really like is the miniature remote control helicopter. Technology and manufacturing have gotten to the point where you can pick up a remote control helicopter that will fly indoors for $30-60 bucks. Very cool if you ask me. And while they are challenging to fly, once you get the hang of it, they are a lot of fun.
For Christmas this year, two gifts my son received were at opposite ends of the toy spectrum — the technologically complex and expensive remote control miniature helicopter that I described above and the classic, simple olive drab plastic army men. Below is my quick assessment of their pros and cons.
Miniature RC helicopter
Pros
– technologically advanced
– lots of fun to play with
– high on the cool factor
Cons
– fragile
– expensive ($30-60)
Classic green army men
Pros
– classic and retro
– inexpensive ($1.99)
– old school cool
– batteries not required
– hard to break, durable
Cons
– WWI technology in a drone reliant world
– limited poses
– unable to hold their own against aerial RC helicopter assault
Unfortunately, the miniature RC helicopter being the fragile piece that it is does not stand up to the rigors of 11 year old flight maneuvering. The chopper suffered one too many crashes and, as you can see in the photo below, endured catastrophic failure of its main counterbalance beam. Luckily, the green plastic army men are a bit more rugged for 11 year old male abuse and should get my son through his disappointment of the failed rotary winged bird. We'll get on the internet to see if said counterbalance beam replacement parts can be procured. Maybe at that time he'll get more than 48 hours of flying time from the craft.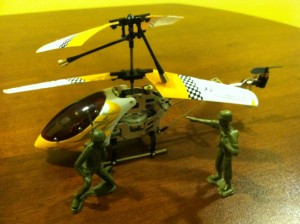 …..Dan at aslowerpace dot net