Last Tuesday's post was about a local cyclops buck that we spotted on the way home from Scouts with only one of his antlers. It is the season for the males to drop or "shed" their antlers. And because it is hunting the kids can do, we enjoy going out back and seeing if we can find any. Our shed hunting escapade last year was only successful in the fun category — we actually didn't find any antlers.
However, this year was different. My son and I had been out for about 45 minutes and were making our way back towards the pond. We were along the property line where there is an old farm barbed wire fence. The deer path there is heavily trafficed and there was evidence of deer — tracks, droppings, beddings and tree scrapes.
As I went up the path to continue scouting, my son nonchalantly says "Here's one".
He picked it up and we both excitedly looked it over. We then scanned 20-30 feet up and down the path hoping to find the other one that the deer rubbed off. Unless it is still on him. And maybe that is what we saw last Tuesday.
Maybe we should give it back to him so he has a complete set. Anyway, it was our first deer shed find and very cool.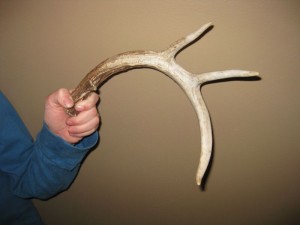 …..Dan at aslowerpace dot net