It's about time I got back to posting. I unexpectedly took a week off for no good reason other than I was focused on higher priorities — family, work and such. And this week has been challenging because Mrs. ASlowerPace is in the hospital after having surgery Monday. Because it was digestive tract related, her fun in the hospital will last most of this week. I have been playing Mr Mom and also commuting to downtown Louisville to visit my wife daily. Fortunately, she was covered in prayer by many devout folks (if I have not said it before, prayer works — not to get what we want but for us to connect with our Creator who intimately loves and cares for us). Her recovery is painful but on track and I hope to take her home after she is able to eat, digest and pass food.
But in the meantime, January has come and gone. I blogged a post or two at the beginning of the year about making some changes and focusing on goals and action rather than the society norm of broken promises and failure. And while I have not completed my entire 2012 personal goal list, here is a short summary and milestone check.
PERSONAL – 2012 reading list – started 12/27/11
While I have lost a bit of momentum off the first couple of books, I am still a week and a half ahead of my calendared book list. Link here to follow progress.
SPIRITUAL – Read through the Bible in a year – started 12/28/11
I am on day 36 (yes, I started before the beginning of the year) on my YouVersion OT and NT Bible plan reading. I have not missed a day and am already 10% with reading through the entire Bible.

FINANCIAL – Future proof my life
Meet with an attorney and have a living will for me and my wife. – COMPLETE 1/26/12
Meet with an attorney and have a will for our family created. – started 1/24/11 and in progress
Implement Financial Peace Jr. for our kids. – COMPLETE; implemented 1/02/12 and functioning flawlessly
Review of life, home, and auto insurance plans. – still outstanding
PHYSICAL – Exercise routine that maintains 190 lbs – started 12/27/11
While I have not hit 190 pounds yet, my declining slope of weigh tracking should get me there. And I have engrained the habit of morning workouts into my routine. See my Wii screenshot below.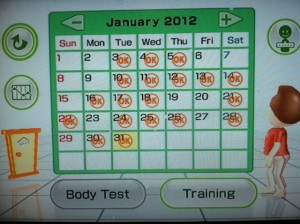 There are more personal goals I have for 2012 and I will try to be as transparent as I can (without compromising too much privacy). The learning lesson for me this year is that action is SO MUCH MORE IMPACTFUL than planning or perfection.
I guess Nike got it right a few years ago with their slogan — "Just Do It".
…..Dan at aslowerpace dot net